[마닐라] 팬퍼시픽 호텔(Pan Pacific Manila Hotel)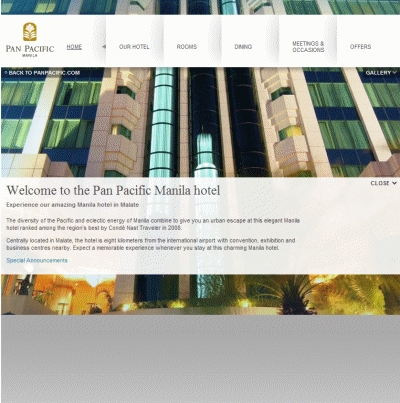 Pan Pacific Hotels and Resorts is a leading brand in Asia and the Pacific Rim that continuously exceeds global standards of quality. The Pan Pacific brand is synonymous with personalized care and encompasses a culture of subtleness, delicate service and attention to detail.
Each year, Pan Pacific Hotels and Resorts is recognized with prestigious global accolades for its consistent delivery of luxurious accommodation, high quality amenities and service excellence. Offering a distinctive value proposition in hotel management backed by 30 years of success in managing hotels, Pan Pacific Hotels and Resorts has been recognized by Conde Nast Traveler magazine as amongst the top 25 hotel companies demonstrating social responsibility.
Pan Pacific Hotels and Resorts takes pride in balancing the needs of all of its stakeholders: owners, guests, associates and the local communities in which it operates. The group's goal is to maintain this as it continues to create further returns and enhance asset value of the hotels.
The fast expanding hotel group is owned by Pan Pacific Hotels Group, the listed hotel subsidiary of UOL Group Limited which is one of Asia's largest hotel and property companies with a diversified portfolio of investment and development properties. Headquartered in Singapore, Pan Pacific Hotels and Resorts has a portfolio of 17 upscale hotels, resorts and serviced suites representing over 5,850 rooms in 10 countries across Asia and North America. It has offices in Hong Kong, London, San Francisco, Singapore and Tokyo. Pan Pacific Hotels & Resorts is a founding member of the Global Hotel Alliance, the world's largest alliance of independent hotel brands.
필리핀 정보포털 필리핀올입니다.
http://www.philall.com
| | | |
| --- | --- | --- |
| | | PM 21시 10분 |

Total 9